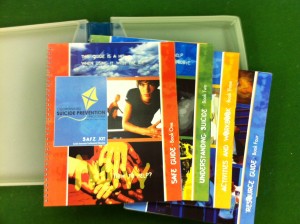 In 2007, the CSPP developed amazing SAFE kit resources that can be loaned out to interested parties.
The SAFE Kit focuses on awareness raising and suicide prevention in our communities.
SAFE Kit stands for Suicide Awareness Fundamental Education kit and aims to support discussion around suicide, enhance understanding, and encourage resilience within our community, and particularly with our youth.
The kit is designed to accomplish this through providing up to date information on suicide as well as a variety of related issues including coping, communication, mental health, resources, and how to help. The focus that the SAFE Kit places on youth is based on the premise that approximately 70% of high school students think about suicide as an option in their lives.
SAFE kits can be lent out for use in our community. To borrow a SAFE kit contact the CSPP office.
[easymedia-gallery med="895″ filter="1″]