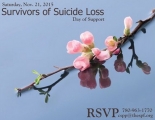 2015
Annual Survivor of Suicide Loss event to support those in our community that have lost loved ones to suicide.
Healing session, Viewing of 2015 Family Journeys: Healing and Hope after a Suicide, Supported discussion and Memorial

2014
Supporting survivors of Suicide Loss - Finding Peace.
Friday - Healing Through Movement and Music with Sandy Ayre, Yoga for Grief Support and Sheila Killoran, Transitions Music Therapy.
Saturday - Aboriginal Ceremony, AFSP 2014 documentary, Supported Discussion and Memorial.
2013
 In honour of the International Day for Survivors of Suicide Loss: Aboriginal Ceremony, Speaker from The Support Network, Lunch and Expressive Art Workshop